Pest Control Maidstone, Kent
1st A Pest Control Service Ltd perform pest control and extermination services in Maidstone, Kent, and throughout the surrounding Medway towns.
Our pest control team are highly skilled and work to the highest standards of health and safety for your peace of mind.
We work in all areas where pest problems occur, whether its residential commercial or industrial to help keep your property/premises PEST FREE!
For all Pest Control services or quotes in Kent please call us on 01622 211311.
Over 30 Years of experience in Pest Control.
We are members of the BPCA and the National Pest Control Technicians Association. Due to our highest standards of work, we have been awarded with a Contractor Experience award for our contributions to pest control.
As a family-run company in Maidstone, we offer a wealth of experience in the pest control solution industry. We know exactly how to keep our customers satisfied at all times. We keep the costs as low as possible due to the inflation of costs of living. You will always deal with the same person, to help keep continuity and consistency throughout the works carried out. Our technicians are fully uniformed with ID badges, for your peace of mind.  All treatments are carried out humanely and safely to guarantee the safety of your children and pets.
Booking our commercial pest control services is simple.
If you suspect you have a pest problem or would like annual pest management and prevention services, our team can help.
We have experience working in a wide range of business environments, including offices, industrial premises, retail spaces, healthcare facilities, farm buildings and many more..
We understand the last thing you want to deal with as a business is an ongoing pest problem. If you would like our expert advice or help, call us today on 01622 211311 and we can arrange to conduct a free survey at your commercial property as soon as possible. After the survey, we'll agree to a treatment date and time that suits your schedule with costs confirmed. We can provide a full report system folder for record keeping should the EHO call to carry out a site visit.
Qualified, professional pest control technicians!
Our family-run business in Maidstone includes BCPA-certified pest control technicians with years of experience resolving pest infestations for clients across Kent.
Our qualified technicians can identify all types of infestations including bedbugs, wasps, cockroaches, flies, fleas, mice, rats, moths and many more. We pride ourselves on the personal bespoke service we offer to all of our clients. Unlike larger firms, we take the time to get to know your business/ team and deliver personalised care and support before, during, and after your pest control treatments. We'll do whatever's needed to resolve your pest infestation and continue to monitor the site to help maintain a pest free environment!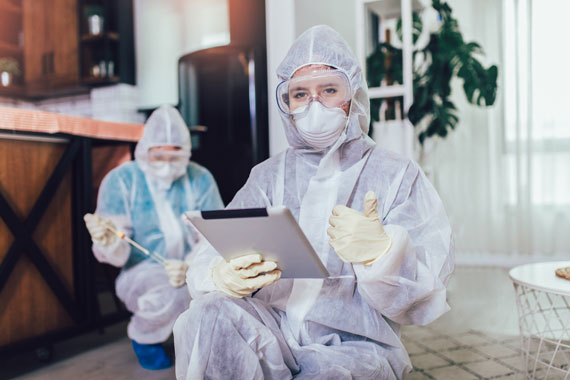 Providing an unmatched level of quality and service.
We provide a professional, prompt service to both the residential and commercial sector. Our comprehensive pest control services protect your home, family and pets.
Businesses owners can take advantage of our free site survey prior to implementing a full on-site assessment.